Stay current with New Faith Church events. We will be featuring different events throughout the year with detailed information. We'd love to see you at a few of them.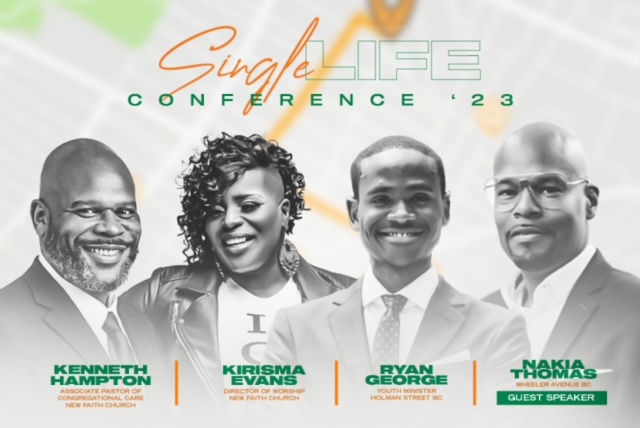 Single Life Conference
All Singles are invited to register for the God Powered Singles Conference at New Faith Church. The conference will be held on Saturday, October 21st, 8:00 am – 1:00 pm.
The conference will conclude with lunch, a panel discussion and closing remarks by our guest speaker. We encourage you to register early and invite your family, friends, & coworkers. click the link to register.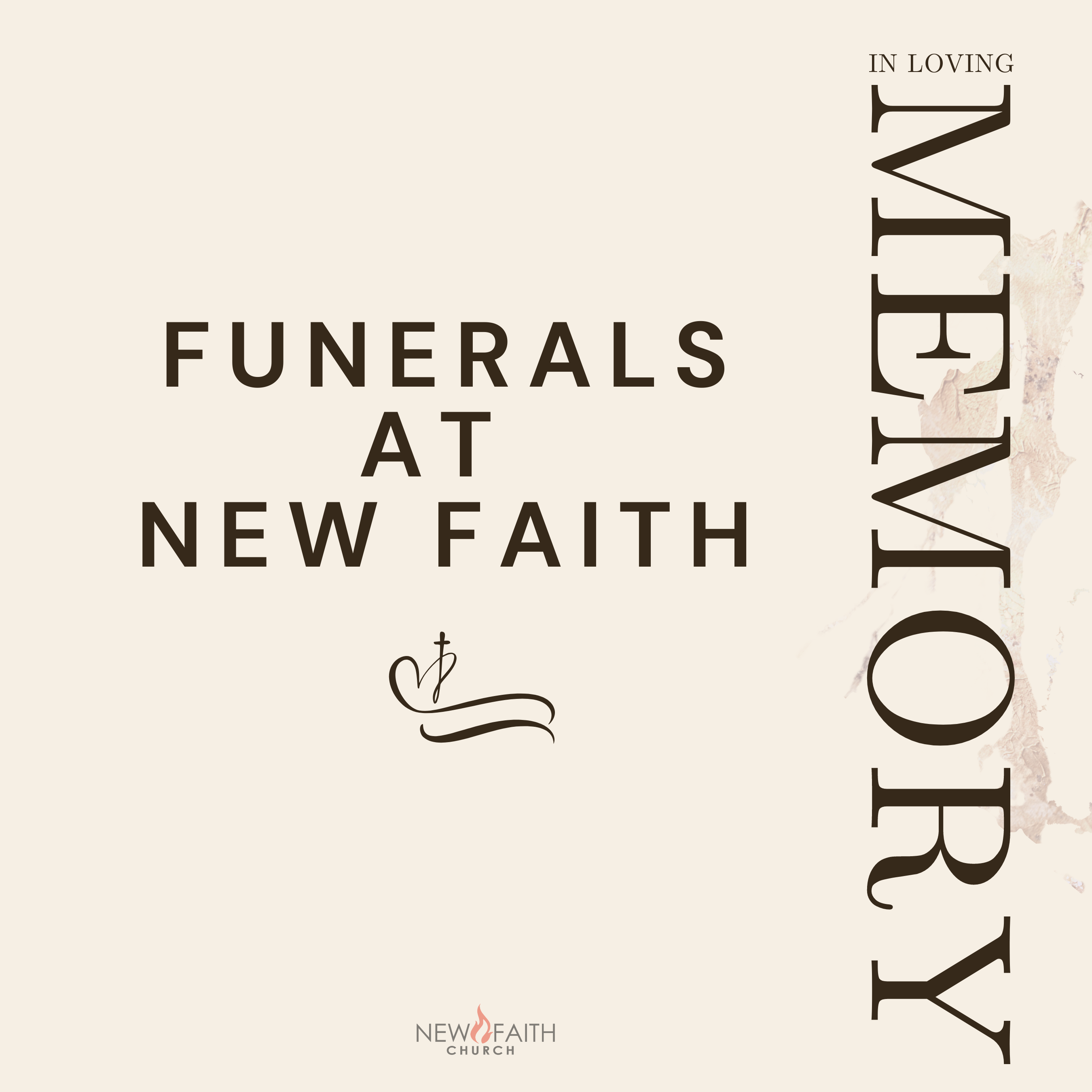 Celebration of Life Services
Joan Murphy
Saturday, October 7, 2023
Viewing: 12:00 PM
Funeral: 1:00 PM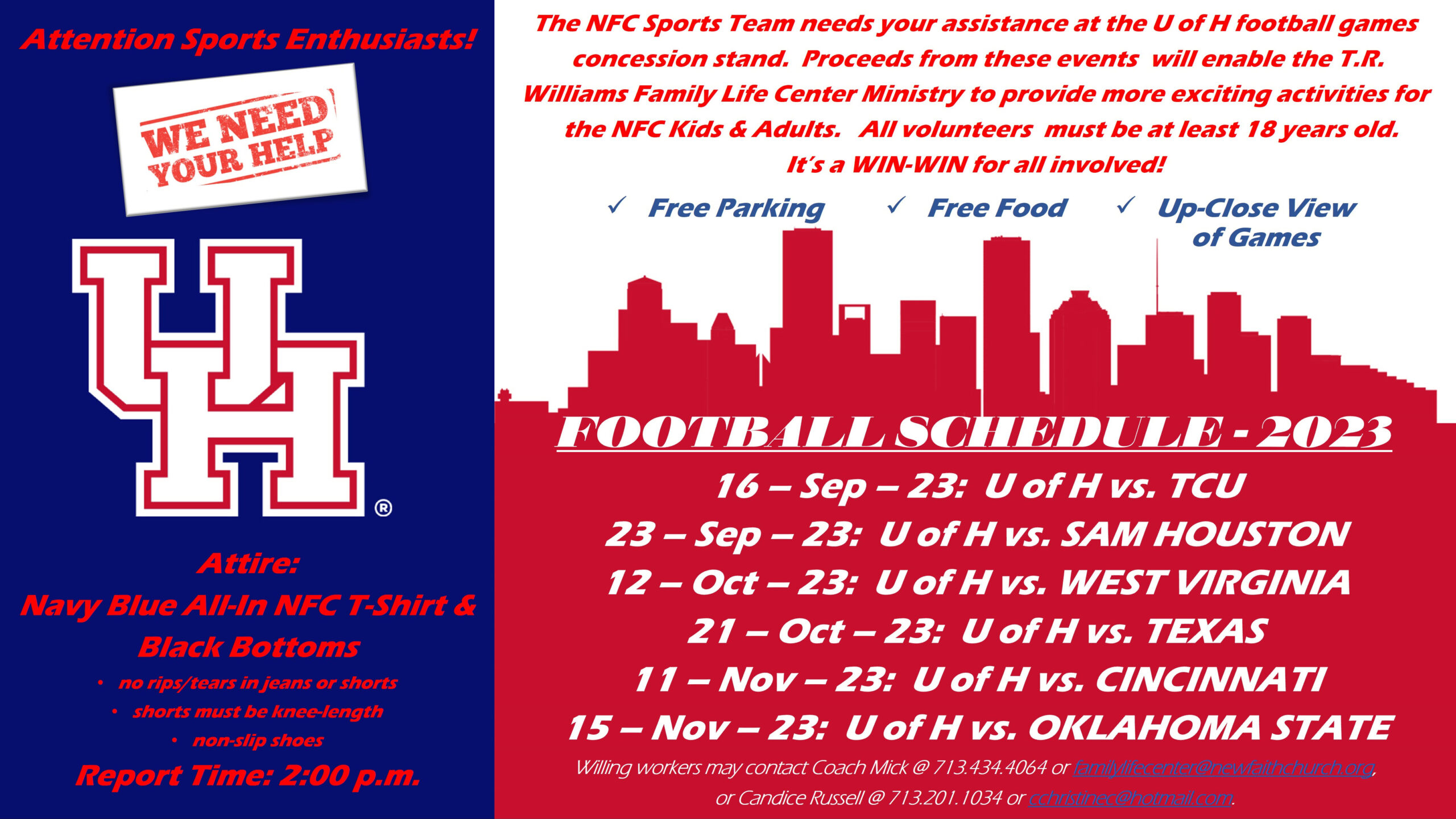 University of Houston Football Program
The NFC Sports Team needs your assistance at the UH football games' concession stand. Proceeds from these events will enable the T.R. Williams Family Life Center Ministry to provide more exciting activities for our Kids & Adults. All volunteers must be at least 18 years old. Report Time: 2:00 p.m. Here are the upcoming dates for opportunities to volunteer:
16 – Sep – 23: UH VS TCU
23 – Sep – 23 UH VS SAM HOUSTON
12 – OCT- 23; UH VS WEST VIRGINIA
21 – OCT – 28: UH VS TEXAS
11 – Nov – 23: UH VS CINCINNATI
15 – Nov – 23; UH VS OKLAHOMA STATE
Willing workers may contact Coach Mick @ 713.434.4064 or email familylifecenter@newfaithchurch.org?
or Candice Russell @ 713.201.1034 cchristinec@hotmail.com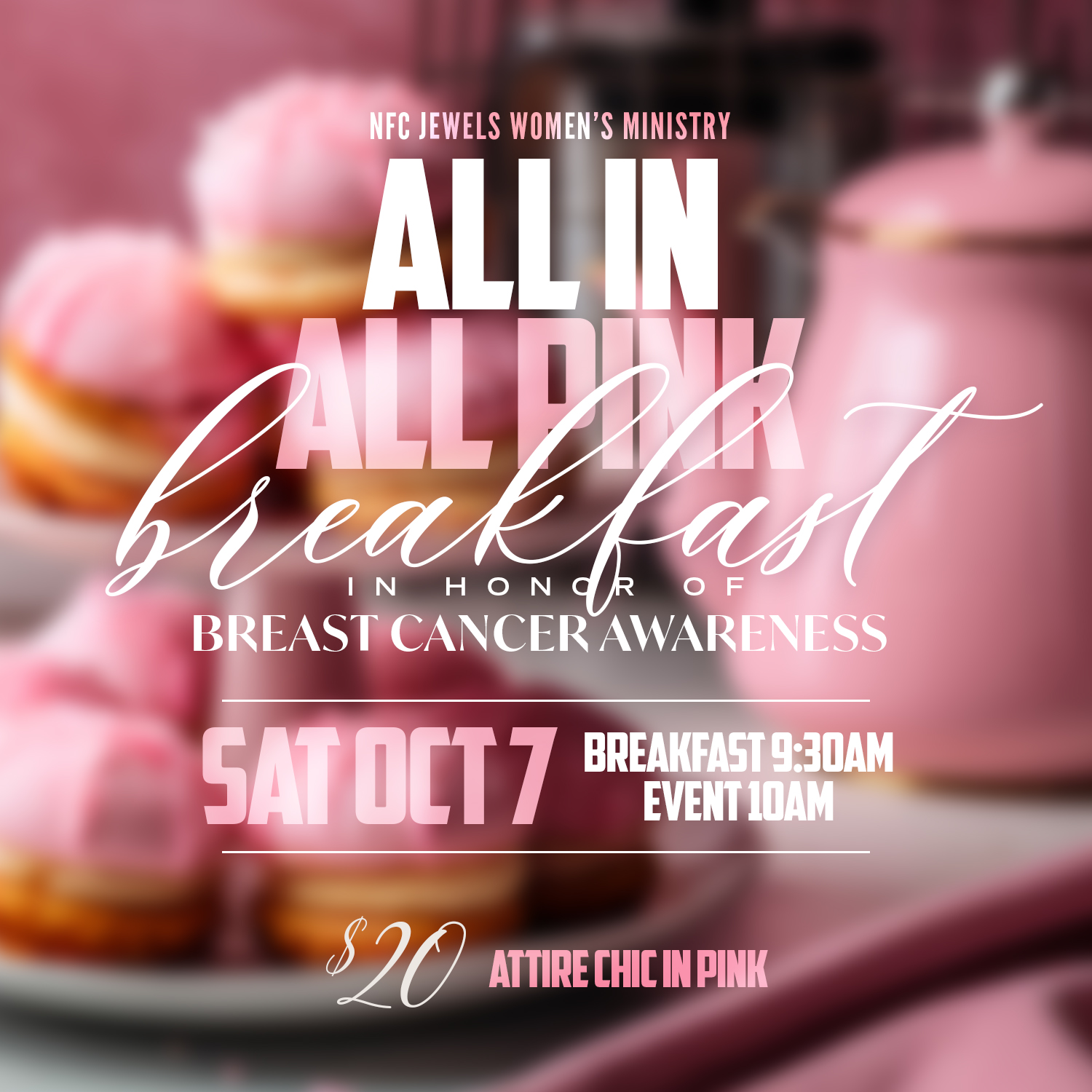 NFC Jewels Women's Ministry
Ladies October is right around the corner and the NFC Jewels Women's Ministry wants every women to join us for these two exciting events. Saturday October 7th don't miss the All In All Pink breakfast and Saturday October 28th join us for the Pink Up the Pace 5k walk/run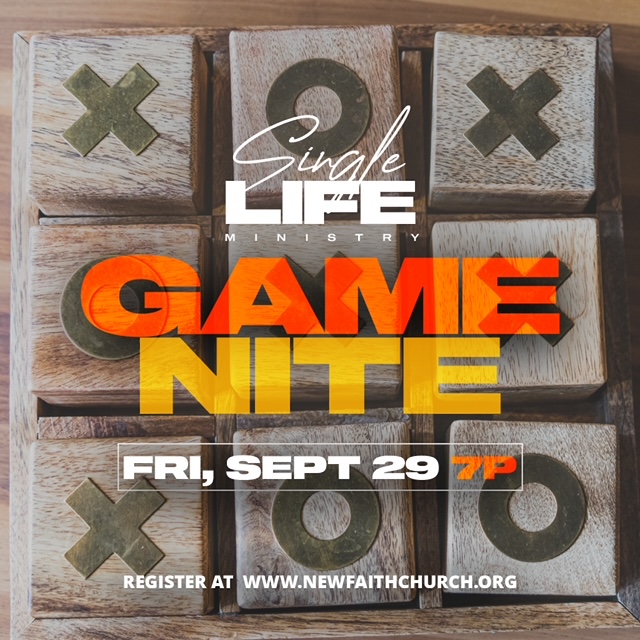 Single Life Game Night
Come for an evening of fun and friendly competition! All singles are invited. Bring your crew, co- workers, your cousins!
Married Life Ministry
Married Life Ministry Enrichment: Soul Speak – Thou Shalt Continuously Communicate!
Calling all married and soon to be married couples, the Married Life Ministry Enrichment Night Presents Soul Speak – Thou Shalt Continuously Communicate. We will have break-out sessions for husbands and wives with a twist!. Light bites and fellowship will end the evening. Come and let your Soul Speak on Thursday, September 21st at 7 PM here at NFC.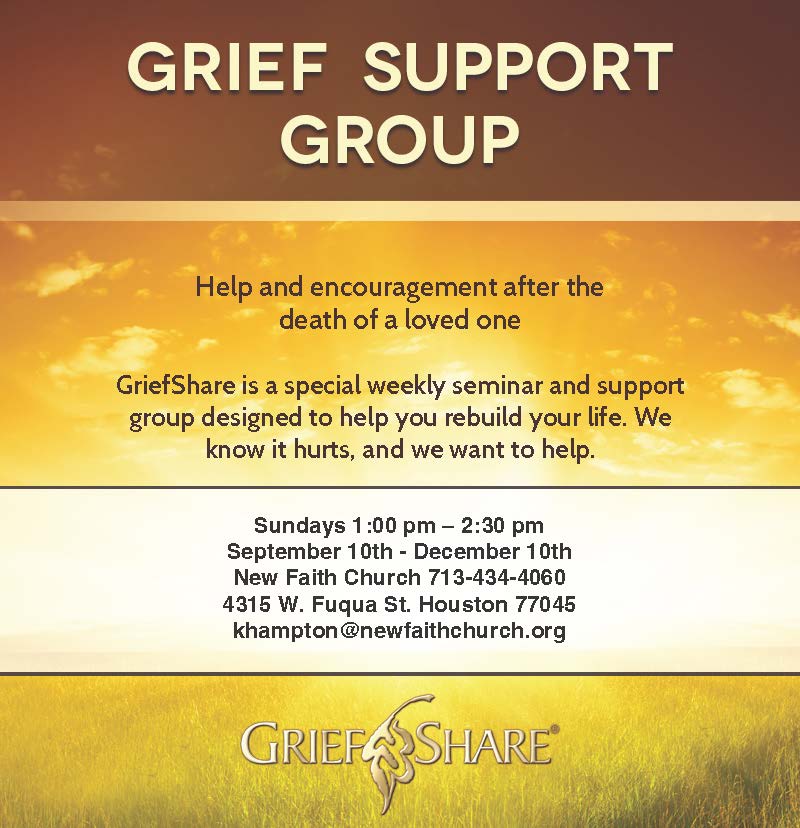 Grief Support Group
New Faith Church will host a Grief Share experience starting September 10th. This 13-week video-based series utilizes a participant guide and group discussion to help individuals heal from the pain of grief. Classes will be held each Sunday from 1:00 – 2:30 in RJM Room 101 with a light lunch beginning at 12:30. To register and order your participant guide, please visit the New Faith Church Website under Featured Events, or contact Rev. Kenneth Hampton @713-434-4060. The cost for this class is $20.00.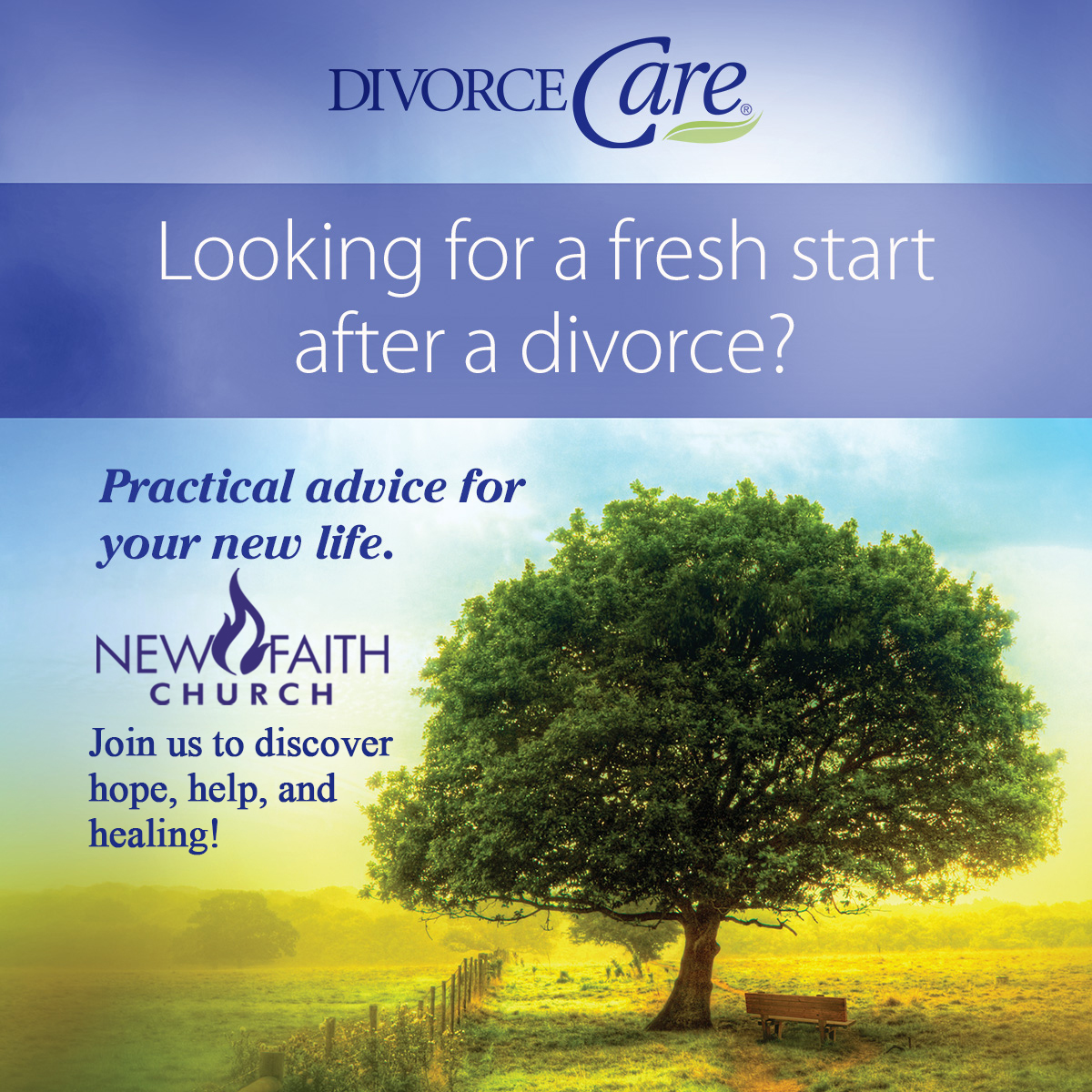 Divorce Care
New Faith Church will hold Divorce Care starting Tuesday, September 12th. This 13-week video based series utilizes a participant guide and group discussion to help individuals heal from the pain of separation and divorce. Classes will be held each Tuesday, at 6:45 PM in Room 102. To register and order your participant guide, click the link below.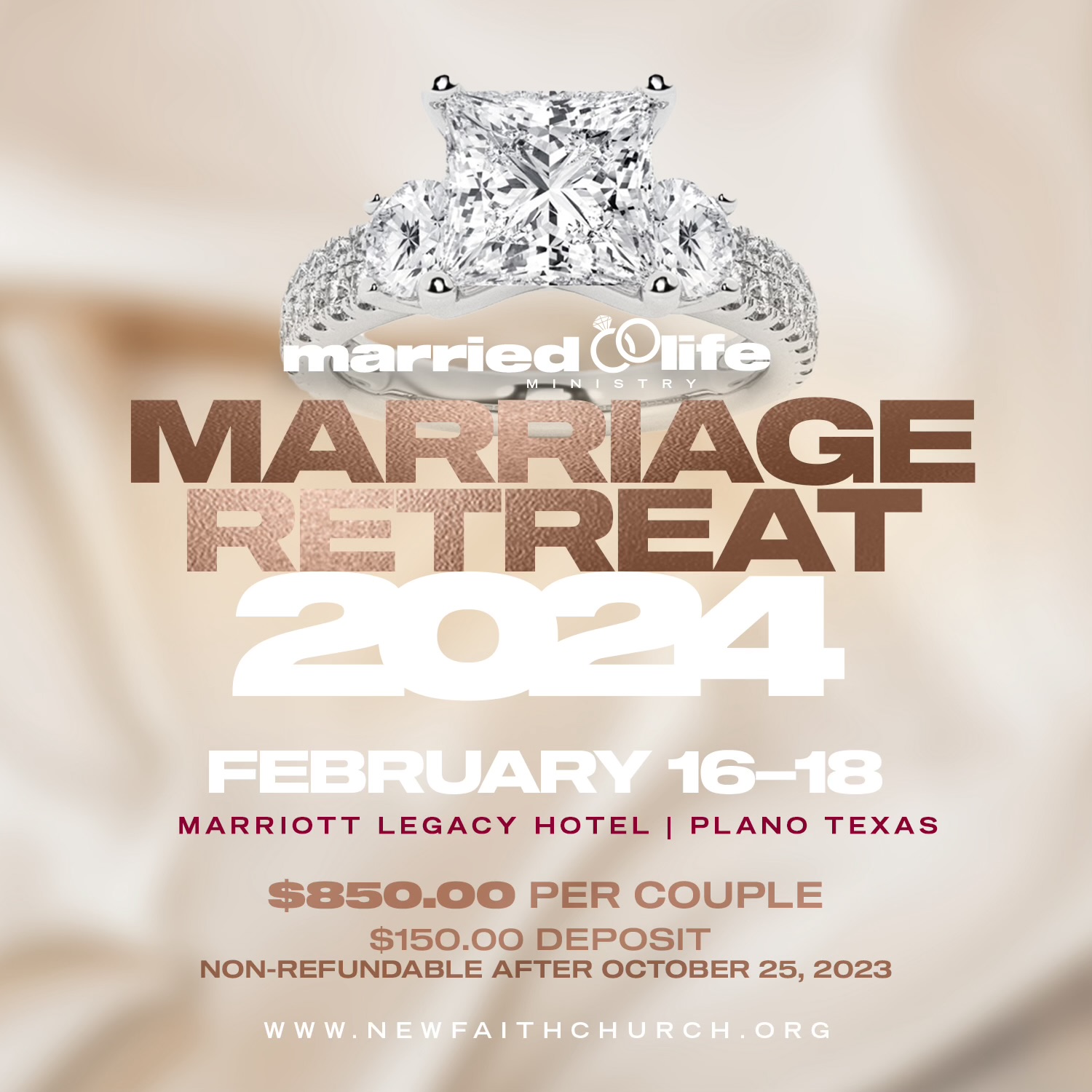 Married Life Marriage Retreat 2024
New Faith Church's Married Life Ministry would like to invite Married Couples to the 2024 Marriage Retreat, scheduled for Friday, Feb. 16th – Sunday Feb. Our theme, UNBREAKABLE – a chord of three strands is not easily broken, Ecclesiastes 4:14.Join us for a romantic weekend getaway to enrich your marriage, gain a greater understanding of your spouse, and interact with other couples as you learn keys to having a lasting and unbreakable marriage! Our speakers will be Sean and Lanette Reed, XO Marriage authors, teachers and podcasts hosts.Registration includes all retreat sessions, 2-night stay, breakfast both days, Friday Fun night, Saturday dinner and entertainment, retreat shirts and materials.
Deposit: $150.00 (non-refundable)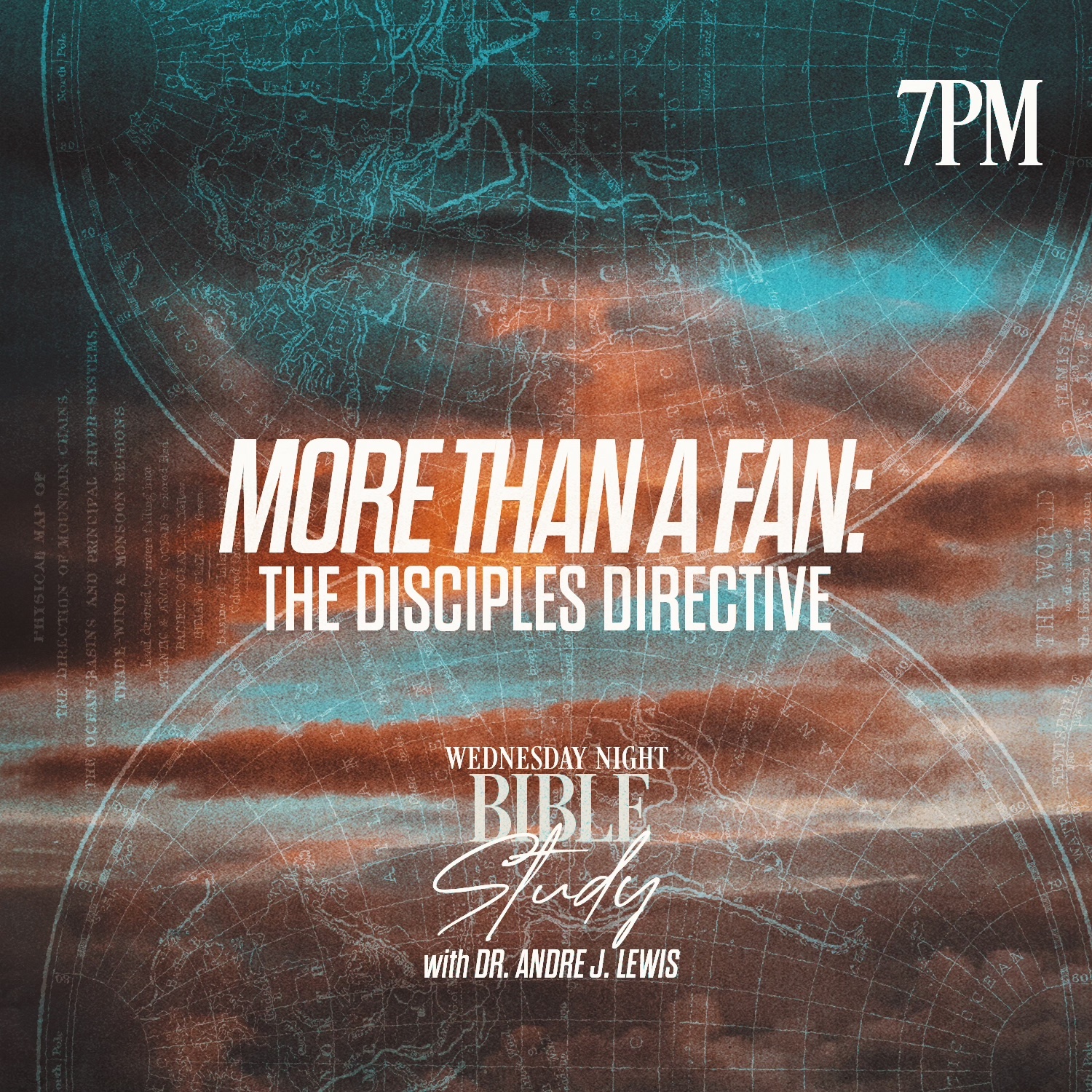 Bible Study Series
Join us for bible study as Dr. Lewis starts a new bible series entitled: More Than A Fan: The Disciples Directive. Meet us in the sanctuary every Wednesday at 7:00pm. Discipleship is key for the believer!
Noon Day Prayer
Generational Discipleship
Friday, September 15th
Discipling Your Grandchildren – Rev. Sally Tarver
Friday, September 22nd
Discipling Your Adult Children – Rev. Gary Mack
Friday, September 29th
Leaving a Spiritual Legacy – Rev. Janice Bell
Food Pantry
Help Stock Our Food Pantry
Donations are welcomed every FIRST SUNDAY to assist in serving our community. Click here for grocery list.
Get Connected!
Church Family,
More than ever, we want to make sure we have your correct information in our records so that we can communicate with you and send you important updates related to the church's movement as we manage the Coronavirus Pandemic. These updates will help us serve you better!
Complete Profile Updates
Submitting a prayer request form is a simple and meaningful way to ask for support and guidance. Our team is committed to holding your prayer requests in confidence and offering our prayers on your behalf.